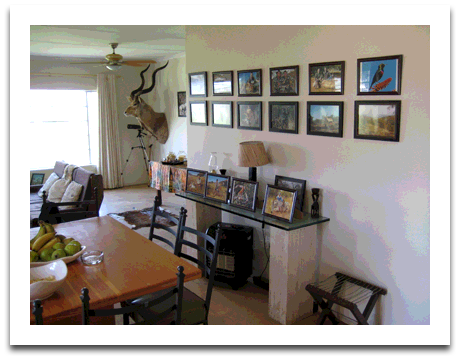 Our lodges offer first class accommodations with private rooms and baths, excellent meals, and pleasant surroundings all in a natural setting with wonderful views of the African landscape and animals. You can set on the front porch and marvel at the scenery and watch wild animals of all species wander by or stop at the waterholes and feed stations nearby. Or lounge in our comfortable reading rooms and browse the books and photos of Africa we have there for you.
The resident staff will prepare your meals which will be served in style within the richly decorated eating areas. Your meals will often be prepared from the game which you or your friends have harvested so that you can get a taste of real African cuisine. After the excellent meals, you can set by the campfire at night and soak up the ambiance and relive the days' experiences and listen to tall tales told by your friends and the professional hunters hosting you. You may want to step out into the darkness and gaze at the sky at night for a view that cannot be seen in the northern hemisphere. See the Southern Cross and the view the Milky Way as you have never seen it before. Then retire to your luxurious bedroom to ready yourself for another day of excitement after an excellent nights' sleep.
Please view photos of our facilities in the "Accommodations Gallery" of our website for a look at what we have to offer.